SPMAO Annual Conference
January 15-17, 2019
Hilton Garden Inn Toronto/Vaughan
3201 Highway 7, Vaughan
Ontario, L4K 5Z7
Canada
TEL: +1-905-660-4700
Reserve your room now
Special group rate available until December 24th – book now!
Registration Now OPEN
Attendee Registration Exhibitor/Sponsor Registration
Download: Attendee Registration FormDownload: Exhibitor/Sponsor Registration Form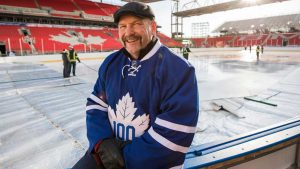 This year SPMAO is bringing you a very special keynote speaker, sure to inspire and spark your mind like never before. Don't miss your chance to see Wendel Clark, former Captain of the Maple Leafs!
Schedule at a Glance:
Tuesday, January 15
4:00 pm to 7:00 pm: Registration
Wednesday, January 16
7:00 am – 5:30 pm: Registration
8:00 am – 9:00 am: Continental Breakfast & Exhibits
9:00 am – 9:15 am: Welcome Address, Sid Smith, President of SPMAO
9:15 am – 10:15 am: Advanced Training Tools and Where To Find Them!
Brittany Campbell, PhD, Staff Entomologist, National Pest Management Association (NPMA)
10: 15 am – 10:30 am: Refreshment Break & Exhibits
10:30 am – 11:30 am: Borates and Wood Boring Insects
Janet Kintz‐Early, PhD, Urban Entomologist
11:30 am – 1:00 pm: Lunch in the Exhibit Hall
1:00 pm – 3:00 pm: Roundtable Sessions with Vendors (Bayer, Bell, Brandenburg, D‐Line, Liphatech, Technicide, Univar)
3:00 pm – 3:15 pm: Refreshment Break & Exhibits
3:15 pm – 4:30 pm: Roundtable Sessions with Vendors (cont.)
4:30 pm – 6:00 pm: Networking Reception with Exhibitors
Thursday, January 17 – TECHNICIAN'S DAY
7:30 am – 3:00 pm: Registration
7:30 am – 8:30 am: Continental Breakfast & Exhibits
8:15 am – 8:30 am: CPMA Update, Sandy Costa, President of CPMA
8:30 am – 9:30 am: Keynote Address, Wendel Clark, Former Captain of the Toronto Maple Leafs
9:30 am – 10:30 am: Cockroaches, Timothy Husen, Orkin
10:30 am – 10:45 am: Refreshment Break & Exhibits
10:45 am – 11:45 am: Pheromones, James Miller, Trece, Inc.
11:45 am – 1:00 pm: Lunch in the Exhibit Hall
1:00 pm – 2:00 pm: Water IPM, Janet Kintz‐Early, PhD, Urban Entomologist
2:00 pm – 3:00 pm: Combatting Bed Bugs with the Latest Science and Tools, Brittany Campbell, PhD, Staff Entomologist, National Pest Management Association (NPMA)
3:00 pm – 3:15 pm: Refreshment Break & Exhibits
3:15 pm – 4:15 pm: Rodents, Sheila Haddad, Bell Labs