2020 Annual Conference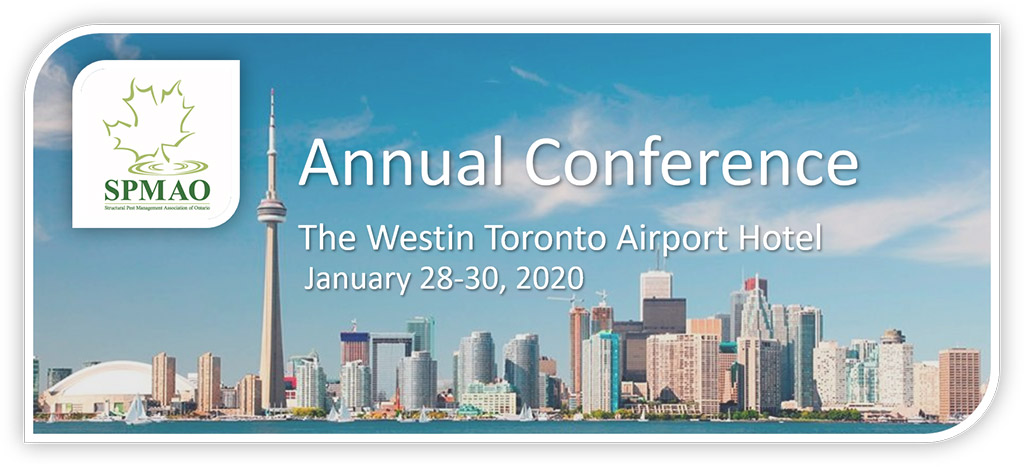 The SPMAO Annual Conference brings you two full days of education, networking and the latest in pest control products to keep you in the know and your business ahead of the game. This year, we're excited to bring you inspirational keynote speaker and Canadian Olympic Team athlete, Martha McCabe! And DON'T MISS Integrated Pest Management expert and Virginia Tech Department of Entomology professor, Dr. Dini Miller, Ph.D, who will be speaking on bed bugs and roaches!
HOTEL INFORMATION
The Westin Toronto Airport
950 Dixon Road Toronto, Ontario M9W 5N4
Special Group Rate: $179/night
Deadline January 7th, 2020
RESERVE MY ROOM
Attendee Registration
3 Ways to Register
1) Download the form HERE and EMAIL your completed form to spmao@pestworld.org
2) Download the form HERE and MAIL your completed form to:
SPMAO
6-14845 Yonge Street, Suite 175
Aurora, Ontario, L4G 6H8
3) Download the form HERE and FAX your completed form to: 866-957-7378
Vendor Registration
Sponsorship and exhibitor tables are on a first-come-first-served basis. Don't delay, register today!
3 Ways to Register
1) Download the exhibitor/sponsor form HERE and EMAIL your completed form to spmao@pestworld.org
2) Download the form HERE and MAIL your completed form to:
SPMAO
6-14845 Yonge Street, Suite 175
Aurora, Ontario, L4G 6H8
3) Download the form HERE and FAX your completed form to: 866-957-7378